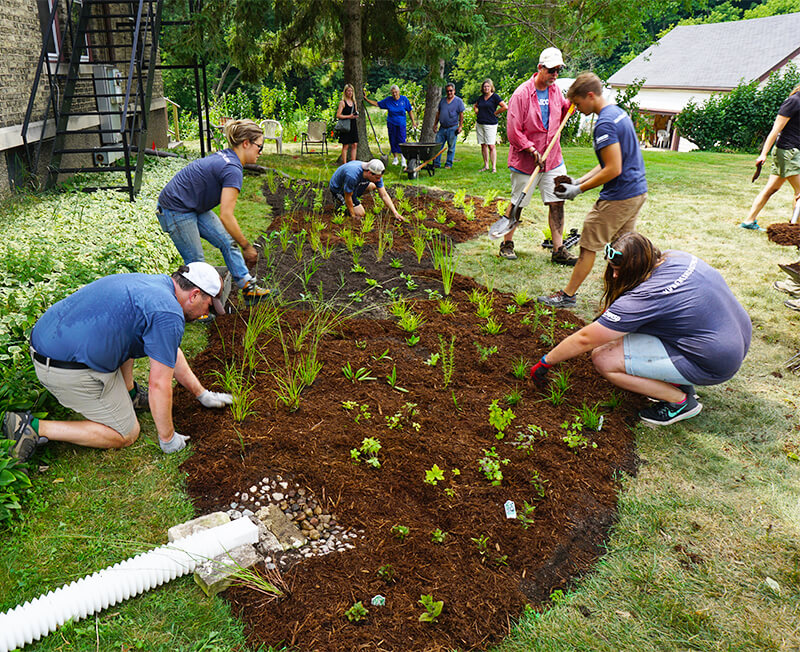 Our midtown Mount Hope neighbourhood is one of the project neighbourhoods for the RAIN Smart program through REEP Green Solutions. The project began in summer 2016 with a huge contest and two residents won big incentives towards front yard make overs designed to capture rain water on their properties. There are more incentives available to Mount Hope residents throughout 2017 and 2018.
Not sure where to start?
Learn how to build a rain garden from start to finish … in a hands on way! Led by Becca Robinson, join a work party at 200 Waterloo Street, the second prize winner from the front yard makeover contest.
Saturday March 20, 2017
10:00am – Rain garden design presentation
10:30am – Work Party! Participate in the construction of this rain garden so you can get ideas and practical experience for building your own.
These workshops are free to attend, but we ask that you please register to help REEP plan for numbers.
Details and registration: https://reepgreen.ca/event/rain-garden-presentation-work-party
Here are two additional workshops that will also help you with your rain garden planning:
Selecting plants for your rain garden
Date/Time: Sunday, May 28, 1 pm – 2:30 pm
Location: 184 Gatewood Rd. (Lakeside)
Details and registration: https://reepgreen.ca/event/selecting-plants-rain-garden
Harvesting rain for your gardens
Date/Time: Saturday, June 3, 1 pm – 2:30 pm
Location: 29 Guelph Street (Mount Hope)
Details and registration: https://reepgreen.ca/event/harvesting-rain-irrigation